December 2022 Patch Tuesday
'Twas the Patch Tuesday before Christmas and all through the IT Department not a sys admin was idle, not even a junior analyst. The patches were queued up for deployment with care to respond to a zero-day and avoid breaking any applications that were there. On this twelfth (and last) Patch Tuesday of 2022 Microsoft and Mozilla have released updates.
Microsoft has resolved a total of 56 unique CVEs. Eight are revisions and 48 are net new CVEs. There is one zero-day vulnerability in the Windows OS and two publicly disclosed vulnerabilities you will want to be aware of.
Mozilla has resolved a total of 11 unique CVEs across Firefox, Firefox ESR and Thunderbird. In this update we will also highlight some recent threat actor activity observed using Ivanti Neurons for Risk-Based Vulnerability Management.
Ivanti Neurons for Risk-Based Vulnerability Management pulls from over 100 different sources of threat intelligence data. There were four new advisories in the past couple weeks based on activities detected by CSW, which is one of those many sources.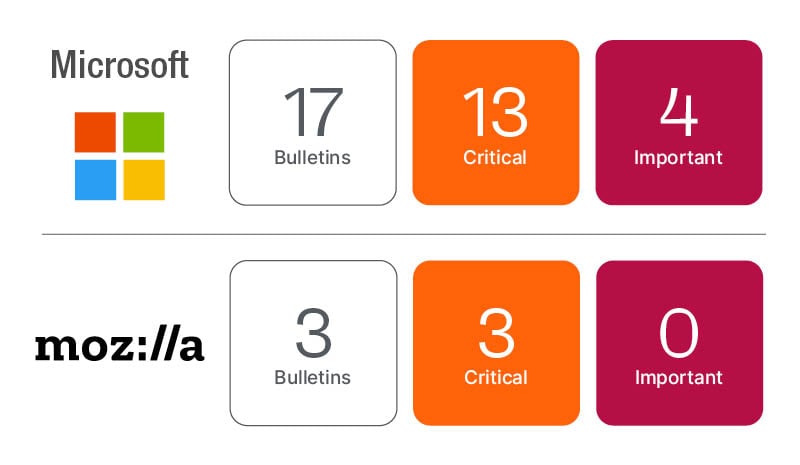 Many of the CVEs have been exploited since the vulnerabilities were originally discovered and updates were provided. Our guidance is to investigate each of these advisories to ensure you have mitigated or remediated each of them to reduce risk to your environments:
Microsoft resolved a Security Feature Bypass in Widows SmartScreen (CVE-2022-44698) that affects Windows 10, Server 2016 and later editions of the Windows OS and Server OS.
The CVE allows an attacker to craft a malicious file that would evade the Mark of the Web (MoTW) defenses to cause a loss of integrity and availability of security features such as Protected View in Microsoft Office, so a file download from the Internet would not be treated with additional scrutiny by reputation checks.
The CVE is rated as Moderate and has a CVSSv3.1 of 5.4/5.0. Organizations using traditional prioritization methods may deprioritize resolution of this CVE even though it is confirmed to be exploited.
Microsoft resolved an Elevation of Privilege vulnerability in DirectX Graphics Kernel (CVE-2022-44710). The vulnerability has been publicly disclosed which increases the risk of potential exploit. The vulnerability affects Windows 11 22H2 and requires the attacker to win a race condition – but if exploited, the attacker would gain system privileges on the affected system.
Microsoft updated information in the FAQ of a Microsoft Office Information Disclosure vulnerability originally resolved in October 2022 (CVE-2022-41043). The vulnerability only affects Microsoft Office for Mac.
December 2022 Patch Tuesday Priorities
Microsoft OS updates affected by CVE-2022-44698 are at the top of the priority list this month. The OS updates for Windows 10 and 11 branches resolve a total of 26 CVEs including a pair of CVEs in the Print Spooler so make sure you have your pilot groups setup to test any critical applications.
Update all browsers! Mozilla released security updates for Firefox as part of the December 13, 2022 Patch Tuesday lineup. Google Chrome also recently resolved a zero-day vulnerability in a November update.
Review the CVEs in the four recent security advisories listed in earlier in this article and make sure zou have prioritized mitigation or remediation for the CVEs being targeted.
Join us for the Ivanti Patch Tuesday Webinar on December 14, 2022, or catch the on-demand recording of the event as well as additional details from our infographic.