Better IT Insights Lead to Better Outcomes for Organizations

I've always been a huge fan of mystery novels and true crime stories. It seems true crime is having an especially big moment right now, from serial killer documentaries to podcasts. Like so many people, I find myself drawn in as I read, watch, or listen to the criminal investigation. It's fascinating how detectives work, diving into the smallest of details to solve massive crimes.
For these detectives, it's all about visibility. Before they can solve the mystery, they need to have access to all of the clues and details, such as evidence, potential suspects, motives, what else happened that day, etc. In movies, you often see detectives listing all of the details in front of them on a pushpin board, so they can see everything at once. This visibility is crucial to figuring out what exactly happened and why.
I've been thinking lately about how IT professionals are often detectives in their own right, with the same need for visibility. Visibility is crucial to the IT organization and the entire enterprise, because the more you know, the easier it is to solve a problem or even avoid issues altogether. The visibility into IT processes and assets is the first step in unifying IT for better productivity and cost value.
Accurate Data is Crucial
When detectives are working with misinformation, they're often led down paths that go nowhere, wasting valuable time and energy. A key part of improving IT visibility is making sure your data is accurate. For many organizations, this starts with the Configuration Management Database (CMDB).
With the latest Gartner report entitled "4 Steps to Improve IT Service View CMDB Data Quality," we believe you can learn how to:
Address gaps in configuration item data oversight
Improve Configuration Item (CI) data quality in four easy steps
Use Change Management to improve CI record data
Reduce the scope of CI data models
Download the complimentary report in order to understand the key challenges IT leaders can expect as well as expert recommendations for using the CMDB to transform IT operations.
Asset Management: It's Time to Get a Clue!
A lack of visibility into the actual assets is often the missing piece IT detectives need to solve the puzzle. Organizations that lack visibility into their assets and lifecycles are hampered by inefficient service delivery, unnecessary costs, and unhappy end users.
Ivanti released a new infographic outlining three steps to better insights using IT service management and asset management, as well as stories of how Ivanti customers achieved better business outcomes. The steps are:
Discover and understand what you are using
Manage your assets and services effectively
Optimize for cost and performance
The process of gaining visibility into assets often starts with tracking resources. In a recent survey conducted by Ivanti, we found that 43% of organizations still use spreadsheets as one of their resources for tracking assets. Talk about an opportunity for human error! And speaking of things that take up IT's time, let's talk about assets under warranty. Our survey found that IT professionals are spending a lot of time supporting out-of-warranty assets.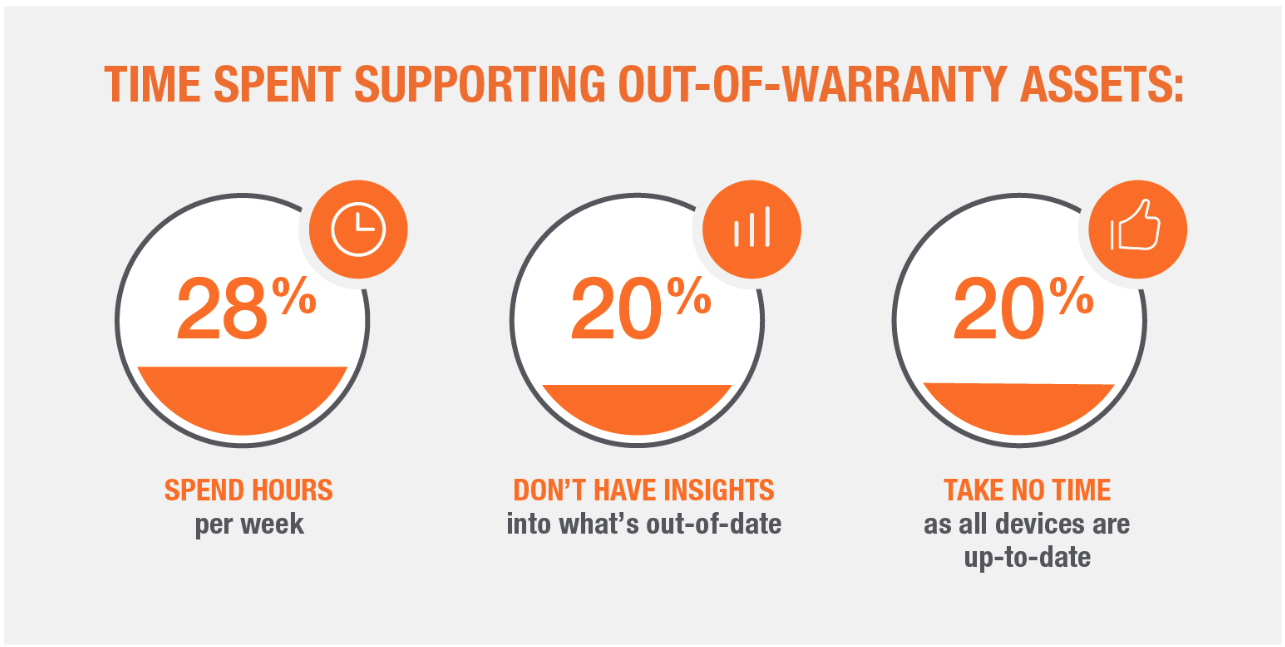 The last step, optimizing for cost and performance, promises an increase in business value. In the same survey, we found that 63% of IT professionals expect to get better visibility into their IT estate when combining ITSM and ITAM.
Learn from IT Detectives like You
Sometimes the best way to prepare yourself for the mysteries in your organization is learning from other IT detectives. We recently compiled stories in a white paper, outlining how six different IT departments gained better insights and business outcomes from increased visibility. Full of high-stakes mysteries and classic "whodunnits," we expect it to be the next true-crime sensation.
We're proud to say we have some pretty fantastic IT detectives here at Ivanti too. Our IT department had just gone through a merger and had a hodgepodge of legacy systems and spreadsheets tracking assets. We were overspending, short cycling assets, and we weren't maximizing our assets. The team rolled up their sleeves and tackled the mystery of the unused assets! The results were impressive, including saving $1.5 million dollars in the first year, having a running yearly savings of over $500,000, and keeping incident rates steady with all the changes. You can watch the interview to see how they accomplished so much here.
Solve the Mystery with Ivanti
When used together, Ivanti Service and Asset Manager make it easier for service desk teams to see previous issues with specific devices and improve the quality of CMDB data (including changes, configurations, and dependencies). Making more asset information part of ITSM processes promise fewer incidents, problems, costs, and unplanned risks. So dust off your magnifying glass and get to work, there are some big mysteries to solve!