Behind the scenes at Interchange 2017
Conference attendees are checked into their rooms, swag has been handed out, and the booths in the expo hall look great. Interchange 2017 is in full swing at the Mirage in Las Vegas.
As boot camp sessions wrapped up on Monday, a rush of Ivanti customers and partners started pouring in for three days of breakout sessions, hands-on labs, great keynotes, and some fantastic evening events.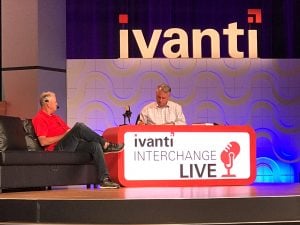 Behind the scenes, Ivanti Chief Marketing Officer Steve Morton spent Monday afternoon preparing for Tuesday's opening keynote. The talk show style keynote is an Interchange favorite and will feature demos of Ivanti products, interviews with Ivanti executives and product experts, and a few fun games.
Conference attendees will want to arrive early to get a good seat to score some cool prizes in our early bird giveaway. For those of you not at Interchange, we'll be posting highlights of the keynote on our blog in the coming days.
We'll be posting more from Interchange all week so bookmark our blog and check back often.