DEFENSE IN DEPTH
Find out why patching is a critical piece of an effective multi-layered security strategy.
STOP RANSOMWARE
See why the FBI says patching is the first of 9 steps to prevent ransomware.
PATCH MORE THAN WINDOWS
Protect Linux, UNIX, and Mac environments
You need patch management software in your toolbox that can handle today's heterogenous environments. Extending patching beyond Windows is a must. And doing this efficiently, using a single interface and automated tool, not only frees up IT, but also reduces human error while enhancing your defenses.
Ivanti Patch for Linux, UNIX, Mac (powered by Heat) can swiftly detect vulnerabilities in your environment, from endpoint to data center, and deploy expertly pre-tested patches automatically. Efficiently patch across all those OSes and Windows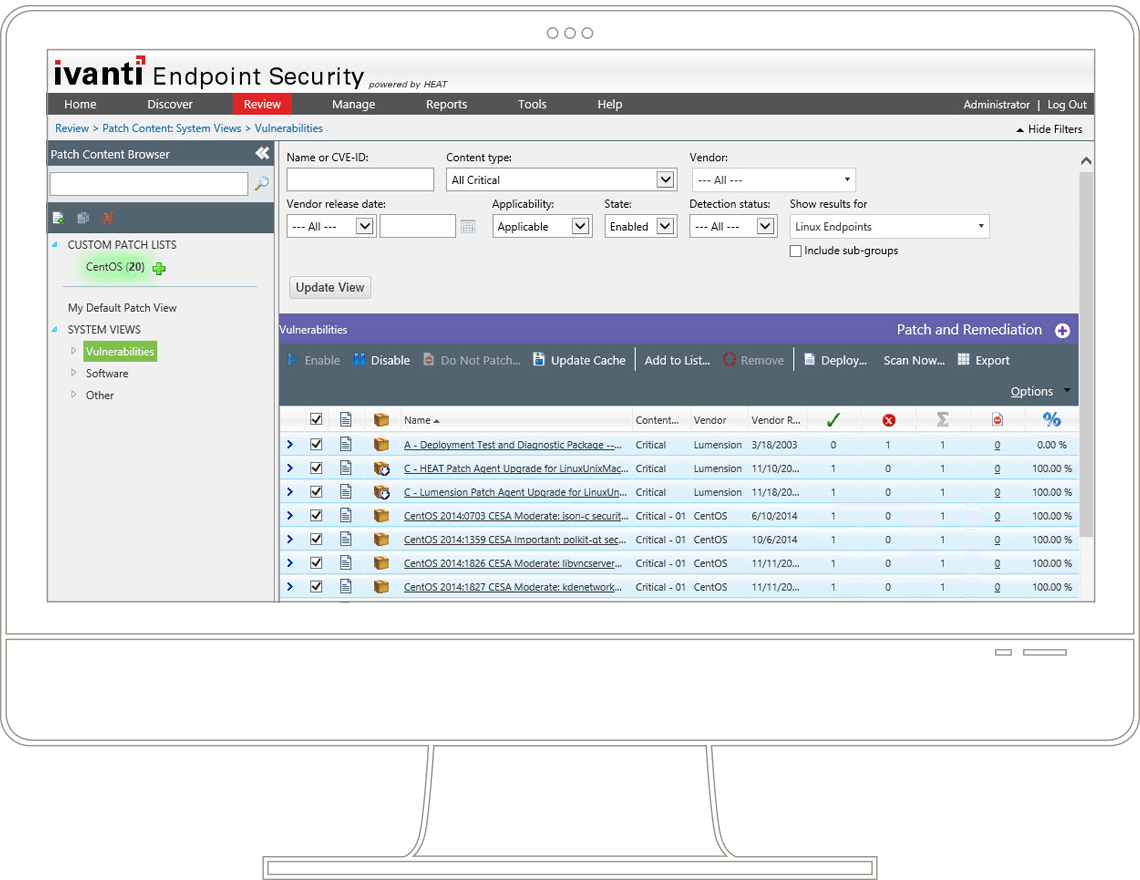 Extend agent-based patching beyond Windows, workstations to servers.
Protect thousands of systems with one tool—even in wildly heterogeneous environments—without disrupting business. Automate vulnerability assessment and patch management across your organization.
ESTABLISH AND AUTOMATE POLICIES
Create consistent policies for more efficient and effective patching, from your servers to your endpoints.
HELP ENSURE COMPLIANCE
See, assess, and protect your workstations and servers to comply with security standards such as PCI and HIPAA/HITECH.
KEEP USERS PRODUCTIVE
Patch at the right time, under the right conditions, so your business keeps moving forward.
PROTECT HETEROGENEOUS ENVIRONMENTS
Detect and remediate OS and third-party app vulnerabilities on systems running Windows, Linux, UNIX, and macOS.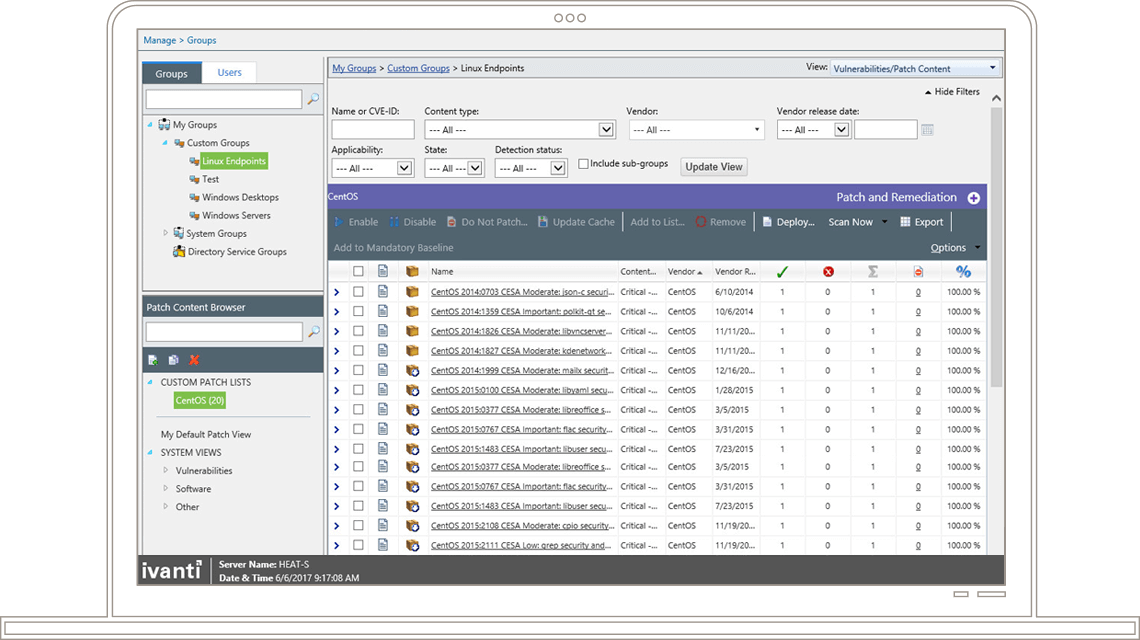 DISTRIBUTED/REMOTE PATCHING
Patch all devices across your network while optimizing bandwidth.
FAST DEPLOYMENT
Test, package, and pre-stage automatically.
SINGLE CONSOLE, AUTOMATED TOOL
Free up IT and reduce the chance for error. Simplify and streamline how you patch your mixed environment.
VIRTUAL PATCHING
Reduce risk by patching servers that are online with the agent installed. (See Ivanti Patch for Windows for our most robust virtual server solution.)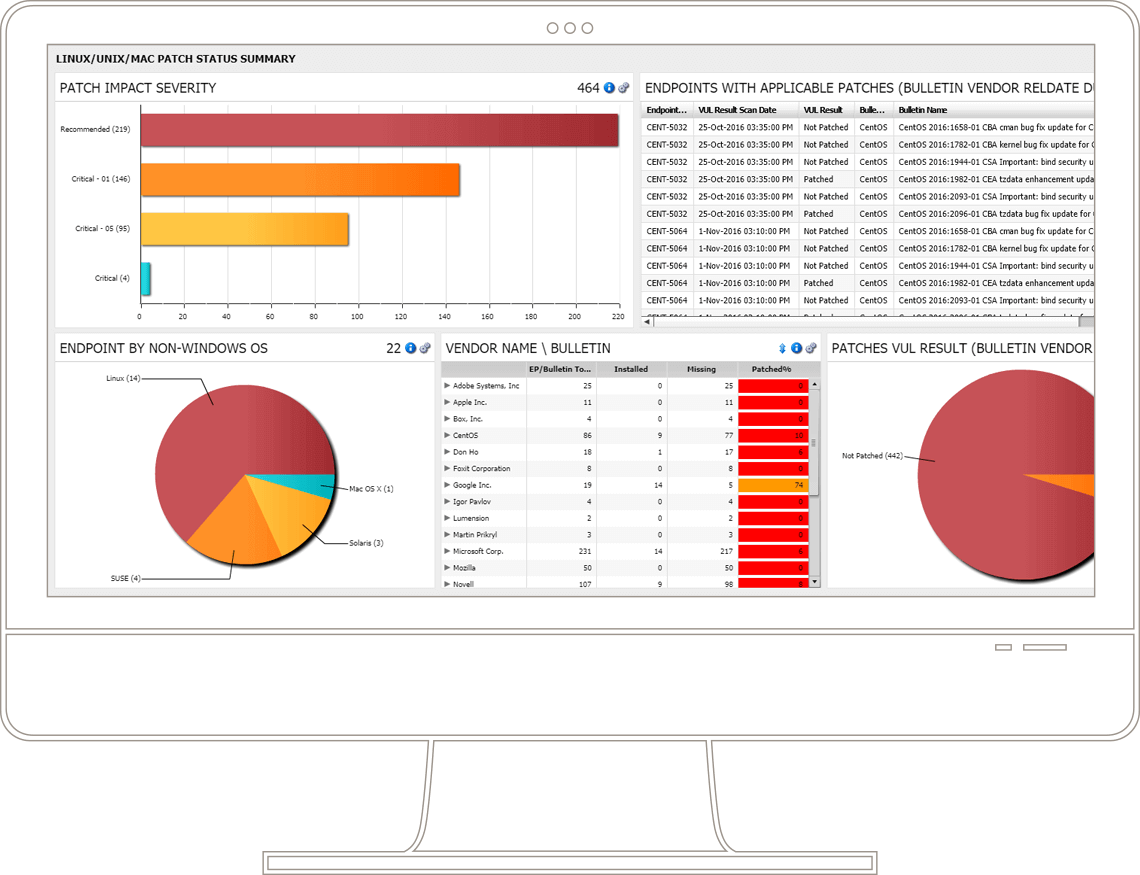 Offline Patching for Disconnected Environments
Bring powered-down physical systems back online to ensure that critical patches and software updates are successfully deployed.
REAL-TIME, CUSTOMIZED REPORTING
Make smarter, faster decisions when you cut through the mass of information to the insights that matter most.
Third-party patch catalog
Take advantage of the industry's broadest third-party patch catalog, including the largest repository of Adobe vulnerability content.
FINGERPRINT TECHNOLOGY
Validate patch applicability and status with our patented technology to avoid false results.
EXTEND AGENT-BASED PATCHING BEYOND WINDOWS
Save yourself headaches and time. Get our automated solution for patching heterogeneous environments, including coverage for multiple OSes and an industry-leading catalog supporting third-party app patches.