Analyst Report
The 7 best practices for resolving emerging challenges in endpoint management.
Automate Endpoint Management
Up with performance, down with IT effort and TCO
A typical IT organization today must support at least four different operating environments, each with unique configurations, applications, services, and security protocols. According to IT managers, the need to support multi-device architectures ranks among the top three challenges in supporting user productivity. (EMA Research). Now, with influx of more endpoints and operating systems, automating endpoint management becomes even more critical.
Let automation work for you. Ivanti DSM (powered by HEAT Software) helps IT organizations manage and secure endpoints across their lifecycle to empower user productivity and enable improved business performance at reduced cost.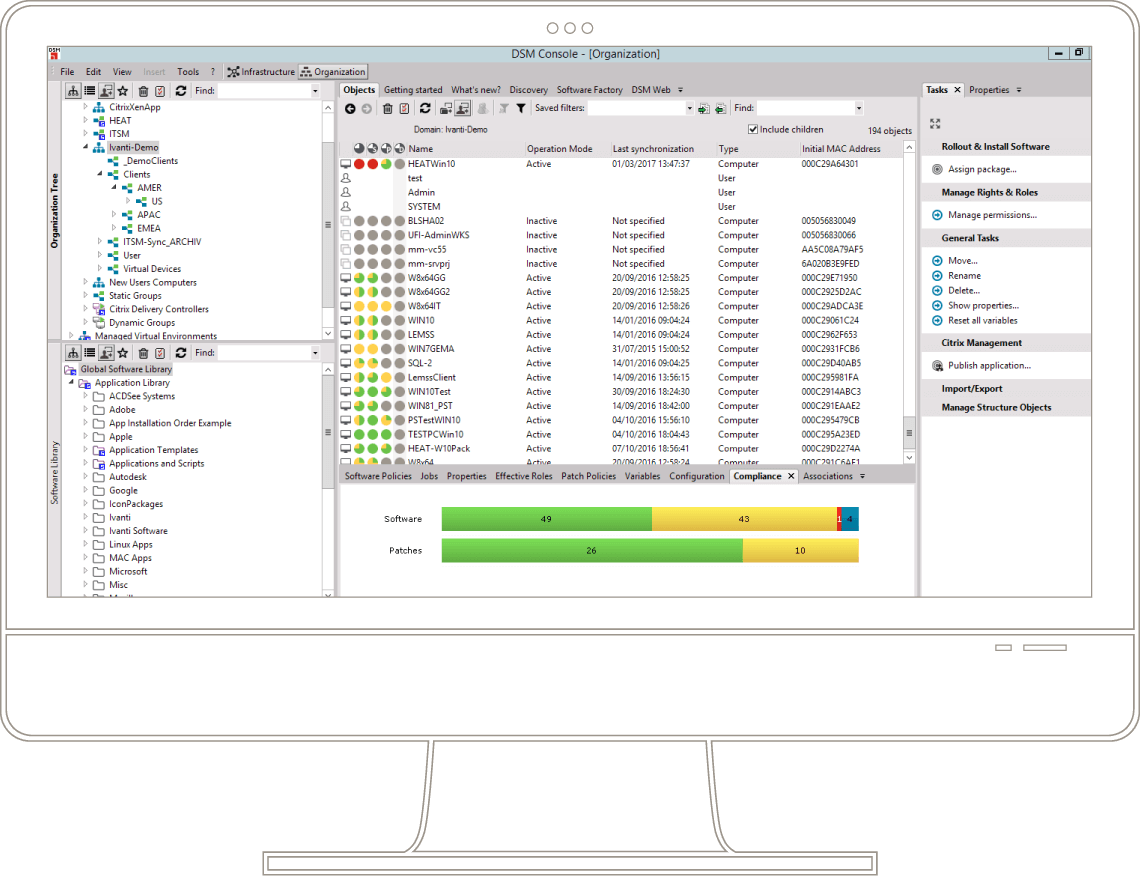 Manage the entire software lifecycle with DSM. It's fully automated, fast and convenient. And IT can focus on providing strategic value to the business.
Manage complex endpoint environments through policies, report on and remediate operational problems and ensure your infrastructure is kept up to date and protected against vulnerabilities.
Software Packaging & Scripting Engine
Ivanti DSM features integrated packaging capabilities that automate packaging of operating systems, applications, system configurations, drivers and more with easy to use packaging and scripting wizards without the need to rely on 3rd party packaging tools.
Software Lifecycle Management
Ivanti DSM fully automates software provisioning, configuration and remediation tasks to efficiently manage physical and virtual endpoints across their lifecycle. From initial installation to retirement – Ivanti DSM has you covered.
Policy-based management
Ivanti DSM features policy-based management, with which IT departments can not only save time, but also respond quicker to changing requirements. Compliance is monitored automatically, and any exceptions to the predetermined policies are flagged immediately so that IT can take necessary actions.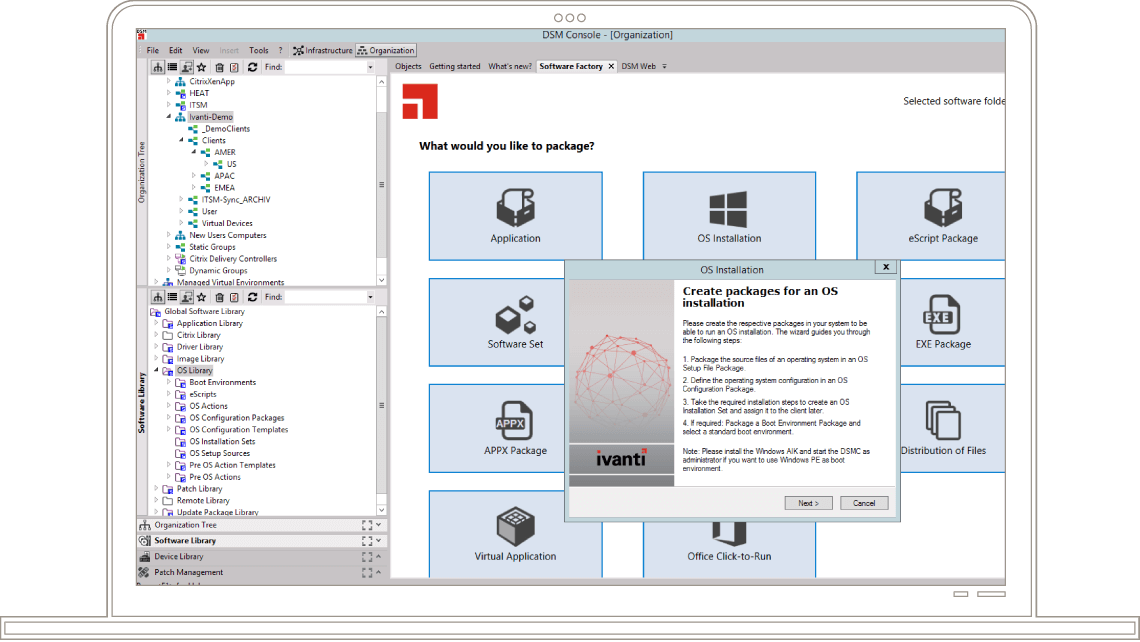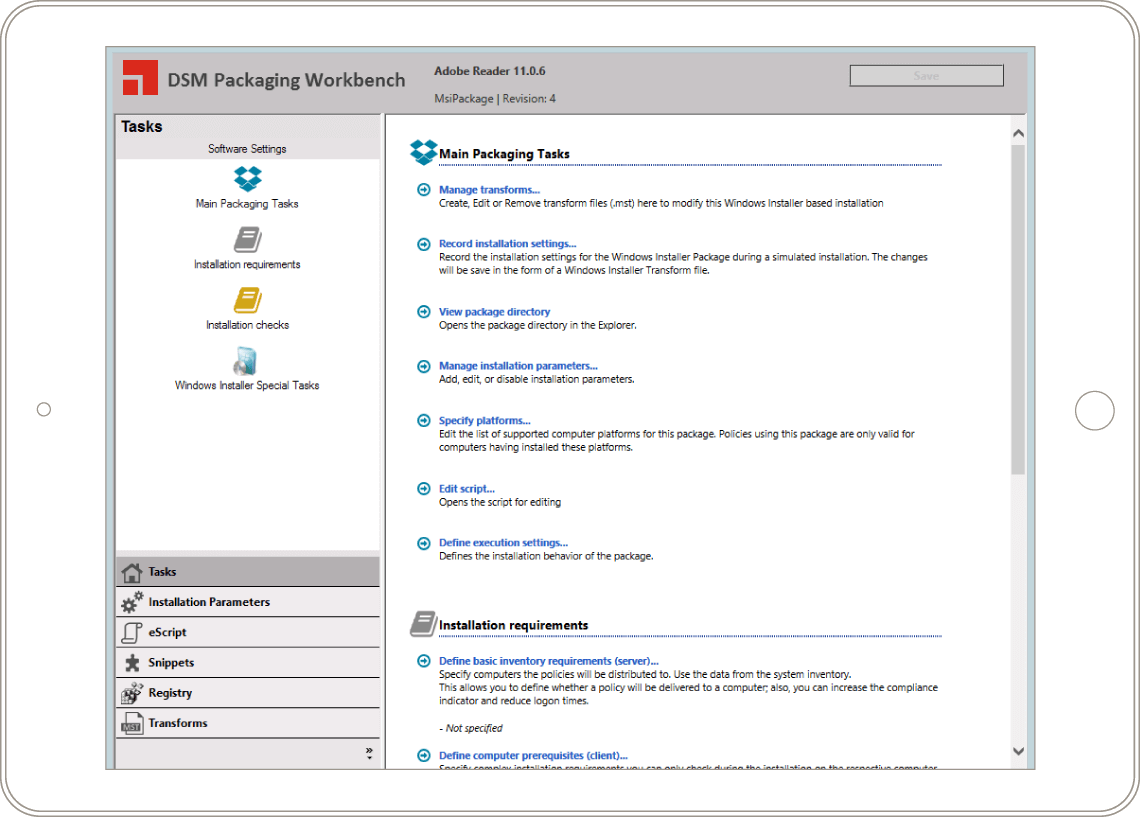 With DSM a small staff can manage and provide updates to a large number of clients and servers.
Riaan van der Westhuizen
Infrastructure Architect
Experience the Power of Automation
Explore how DSM automatically packages and deploys software and operating systems, patches vulnerabilities, and efficiently manages Windows OS migrations, virtual environments, Citrix server farms, and more.