Free Report
Ransomware Index Report Q2-Q3 2022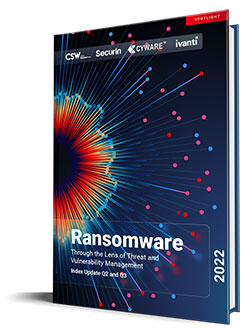 Read this report to better understand the current ransomware ecosystem and receive insights and early warning predictions of highly targeted attack vectors. Learn more about new vulnerabilities tied to ransomware and new ransomware families that became active in Q2-Q3 2022, along with the latest tactics that attackers are leveraging to infiltrate organizations.
Our goal in publishing this Ransomware Index Update is to help organizations understand the true risk posed by rapidly evolving ransomware groups and provide actionable learnings that organizations can use to strengthen their security posture and chart a strong defensive roadmap to counter these threats.
This report is based on data gathered from a variety of sources, including proprietary data from Ivanti and Cyber Security Works, publicly available threat databases, and threat researchers and penetration testing teams.