Boost security with ease
Government agencies are second only to Education in ransomware attacks (2016 BitSight Insights Report).
What are your ex-employees walking away with? Keep tabs on your IT asset lifecycles from onboarding to offboarding.
Windows 10 - keep it simple
Windows 10 offers multiple benefits, but comes with many challenges. Learn how best to make the move and keep it up-to-date.
Manage. optimise. secure.
Is Your IT Modern Enough for Government Work?
Deliver more and better services to your citizens. Protect and secure constituent data. Catch and punish cybercriminals. Consolidate. Innovate. And do it all while cutting costs and maximising the value of your IT assets.
Chances are you may be facing a security, automation, or cost cutting challenge right now – or maybe all of them. But to address any of them in national and local government, you need to do one thing: modernise your IT.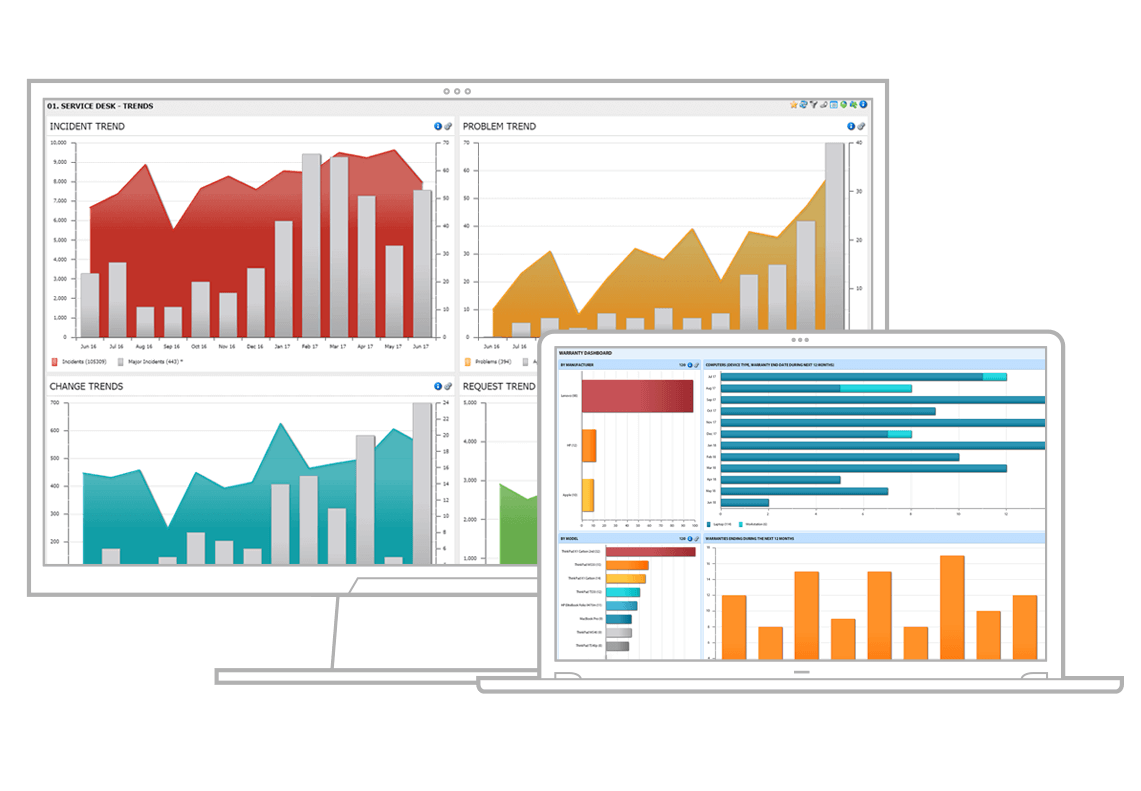 Modern Government Needs Modern IT
You can't deliver services effectively, efficiently, and securely, or comply with evolving regulations and best practises, with yesterday's technologies. You've got to move to more modern government IT—without breaking budgets or business processes.
Big target for cyber crime
Cyber criminals would love to get their hands on constituent data and other sensitive information governments manage.
Security budgets stretched tight
Private sector compensation levels can make finding and keeping security talent in the public sector difficult.
Where are your assets?
Where are your critical hardware and software assets? They may be on the move and disconnected.
Your next audit is coming soon
Ever-changing complex vendor licencing structures creates barriers to get and stay compliant.
No clear path to Windows 10
Microsoft's rapid release cadence pressures IT to constantly update or run the risk of being vulnerable and out of compliance.
Unify endpoint management mess
Multiple point products makes device management difficult to learn, and inefficient to use.
IT data silos
Enhancing citizen services when you don't know how your IT services and assets are performing is difficult.
Real slow, not real time
Unable to create real-time dashboard views of key IT data without waiting in line for a reporting specialist
Proven Government It Services and Expertise
Whatever your national or local government IT management challenges, Ivanti can help. Ivanti solutions can help you improve asset management, deliver more effective security, implement Windows 10 with minimal disruption, and modernise your entire government IT infrastructure. And Ivanti Professional Services can combine our innovative solutions with deep experience, to help you make all the right moves.
A Management Strategy for Success
Your IT environment is critical to your organisation's success and its compliance with vendor regulations. Ivanti national and local government IT solutions and services provide the benefits you need to modernise, manage, and secure that environment, today and tomorrow.
Multi-layered defences
Automate discovery, patch management, and application and device control. You can even isolate infected devices and take action swiftly to keep running malware from spreading.
IT Asset optimization
Complete visibility to maximise the performance and value of your hardware and software. Gain the ability to reclaim unused software, meet compliance requirements, and save time with a centralised view of your assets.
Faster, easier, better migrations
Seamlessly migrate users' profile and data to Windows 10, and achieve a continuous state of migration and harmony.
Critical insights
Self-service IT reporting dashboard and analytics in real-time. Unify your critical IT data in one place with pre-built connectors. Get the right information to the right people to act faster.