Meet Lynn Phillips, Web Content Manager, Human Rights Activist, and Artist
We call ourselves an #IvantiFamily, but how well do we know each other? Below is an interview with Lynn Phillips, a member of the web team.
Where are you from, where did you go to school, and what did you want to be when you were a kid?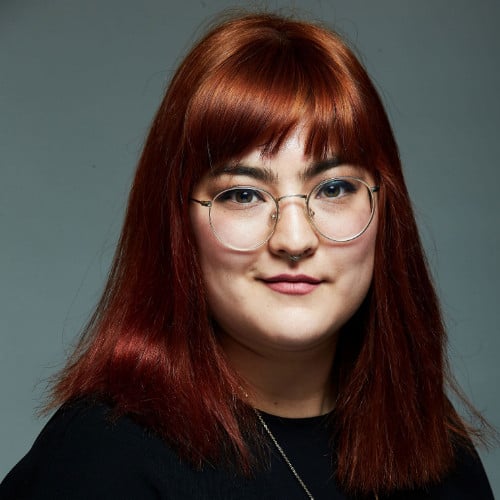 LP: I grew up primarily in Orem, Utah, but spent a lot of time in East Asia growing up. I lived in Nanjing, China for a year as a teenager and also spent a lot of time in Busan, Korea (where my mother's family is from).
When I was a kid, I wanted to be an artist-astronaut-ballerina-cat, but since that career does not exist, I went a different route. I went to university at BYU and graduated with a B.S. in epidemiology and a minor in art.
What was your position before Ivanti, and what have you been doing for the majority of your career?
LP: I spent a small amount of time in the public health sector but quickly realized that it wasn't for me (I think working for the State turned me into a possibly moregrumpy Ron Swanson). I freelanced as a graphic designer before moving into marketing and project management. For the majority of my career, I have done social media advertising and web content production.
How did you find out about Ivanti?
LP: My partner is a live sound engineer and works on quite a few conventions, conferences, and live events for Utah companies. When I was looking for a new opportunity, he mentioned Ivanti as an option that I should look into.
He said that he's done countless shows in his career, but he always looked forward to Ivanti's Interchange conference as it's a fun, high-energy, and creative conference that he and his colleagues always enjoy working on.
Particularly, he mentioned how Steve Morton and the executive team would always take their time to show their gratitude and thank him and the other events staff personally for their hard work, which is something many high-profile CEOs and presidents don't bother to do. Instead of treating him like a servant, they treated him like a valued partner and showed their appreciation.
When I heard that story, it was a "green flag" for me. I knew then that Ivanti was a company that saw employees as people rather than a means to an end, and I wanted to be a part of it.
If you had to describe Ivanti in three words, what would they be?
LP: Friendly, innovative, and balanced.
What are you passionate about?
LP: Human rights. I spend a lot of my free time spreading awareness and advocating for marginalized and underrepresented groups. In fact, Ivanti's unlimited VTO policy has been huge for me. I volunteer with Planned Parenthood and being able to use VTO helps me give back to the community without getting too burnt out.
I am also an artist and I like to draw; it's a great way to express myself and be creative. I also enjoy reading books, graphic novels, and playing video games. I'm all about Saga, God of War, and Overwatch right now.
What advice would you give to someone looking to start a career as a web content manager?
LP: Be organized. There are a lot of moving parts to a website, and being able to balance all of the different components of a project—along with maintenance and other day-to-day duties—is crucial.
Also, buff up your writing skills. This is not necessarily exclusive to web content management, but being able to effectively communicate through writing is a skill that will only become more important as the world becomes more reliant on online communication. Whether it's writing to publish and produce content like a blog post or a newsletter, or an email to a client or colleague, being able to express yourself clearly and competently is a critical skill.
What advice would you give yourself 10 years ago?
LP: Don't be afraid to stand up for yourself. Growing up as a mixed-race and AFAB in a predominantly white community with little LGBTQIA+ representation, there was a lot of discrimination when I was in school and starting my career. Frankly, discrimination still exists, although it has gotten much better thanks to brave individuals and advocacy groups who spoke up and created change.
I would tell myself that it is okay to tell someone that their sexist, racist, and bigoted comments in the workplace are not acceptable. I would also tell myself to not be so self-deprecating about who I am just because it was different from the majority that surrounded me.
Having pride in your identity is one of the greatest things you can do for yourself and encourages others in marginalized groups to also stand up for themselves.
Any final comments?
LP: Did you know that mountain lions are the largest cat that can still meow and purr? That is honestly half the reason I went to BYU: The cougar is their mascot.