International Women's Day Spotlight: Katie Sullivan
On this International Women's Day Eve, we're highlighting Katie Sullivan, a technical support engineer for IT Service Management.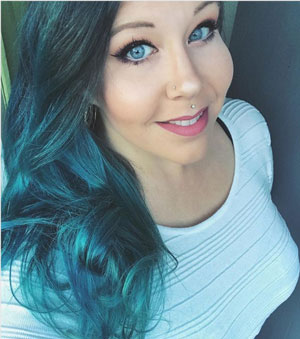 Please tell us a little about yourself and what you do.
KS: I currently support our Service Desk and Xtraction products and am also training on our Service Manager product.
What does a typical day in your life look like?
KS: I've been with this company for over 10 years (the HEAT Software side) and in that time I've worked in customer care and support. I love my office because my coworkers are amazing. When I'm not at work, I really don't touch a computer or TV unless it's Game of Thrones night. I play ice hockey for a few teams, and I also play on an adult kickball team. If I'm not playing sports after work, I'll be at the gym or volunteering at my Wolf Sanctuary in Guffey.
When you were a child, what did you want to be when you grew up?
KS: I really wanted to be a veterinarian when I was a kid. I'm the person in a room full of people who will be on the ground petting the dogs. I have two dogs of my own (Foxy and Roux) and 16 "step" wolves and wolf-dogs at my sanctuary.
Tell us a little bit about your journey into IT.
KS: My journey into the software/IT industry was an accident. I was working in foster care for several years and one of my former foster parents encouraged me to apply for a customer care position. After a couple years, my thirst for more knowledge grew into sitting on tech support calls over lunches to learn anything and everything I could about our products. I've gradually worked my way up, over, and through different products to where I am now.
What are you passionate about?
KS: I'm very passionate about customer service. Without our customers, we would have nothing. Over the years I've developed some very strong relationships with our customers who feel more like friends.
What has been the highlight of your career in technology to date?
KS: The highlight for me is the ability to work at a company that encourages me to expand my own knowledge. I've always had management and co-workers that support me when I have a desire to learn more about products and technology outside our company.
If you were to pick one characteristic about yourself that you'd consider your superpower, what would it be and why?
KS: Creativity is definitely my superpower! I've been the go-to person in the Colorado Springs office for parties and morale for the last 10 years. It gives me a chance to let my left brain have a break from IT work and let the right brain play for a bit. Being able to use both skill sets gives me more balance in my work life.
What skills do you think you need to have a successful career in technology and do you think these skills need to be different for females?
KS: Since the technology field is constantly changing, people should have a constant desire to learn and adapt to those changes. For women in technology, this is not any different, in my opinion.
How do you think the industry can attract more women into technology related roles?
KS: The tech industry can attract more women with equal opportunities for career advancement and competitive wages that are equal to their male counterparts. Shadow programs and internships—run by women, for younger women—would be an excellent start as it would encourage women helping women in the industry.
What advice would you give to a woman looking to start a career in technology?
KS: I would highly encourage any woman looking for a career in the technology field to start learning any tech program you can. Start anywhere at a company, get your foot in the door. Make connections, build your skillset and portfolio, attend tech seminars. I would also recommend working on either a degree program or certification program as soon as possible. Today's tech industry is looking for people who are driven with either years of experience or a degree.
Join the social media campaign!

International Women's Day is promoting a global social media campaign that Ivanti is taking part in. Join the movement by taking a selfie with a #BalanceForBetter selfie card, post it on your social media using the #BalanceForBetter hashtag, and tag @TheTechieGirls so we can see your resolution to promote more balance!