Frequently Asked Questions About Ivanti's ELA
Ivanti's Enterprise Licensing Agreement (ELA) launched in January in an effort to Unify IT.
See also: The Ivanti ELA: A Map for Your Unified IT Journey
Since then, it's been incredibly popular. We've also received a ton of questions about it, so earlier this month, Ivanti CMO Steve Morton and VP of Product Management Duane Newman hosted a webinar to answer some of these questions.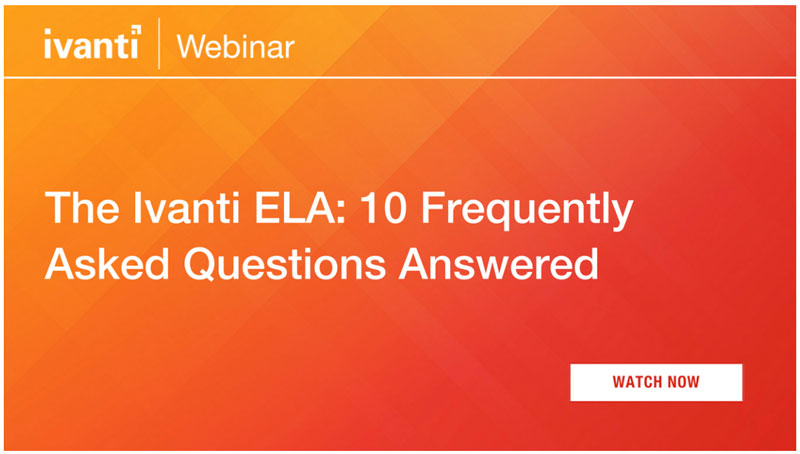 ELA Background
Due to our long history and the number of acquisitions we've had as a company, we have a broad portfolio with a lot of product skus. This is great, because that means that there are a lot of problems that we solve. However, when it comes to buying, it can be a little bit confusing.
The concept of the ELA is simple. Ivanti has five major pillars (areas of expertise):
The ELA provides two options, the "Unified IT" sku or the "Pick Two". Both are subscription based at one simple price. The "Unified IT" option gives you all five pillars and all of the products that those pillars encompass. The "Pick Two" option gives you the choice between any two pillars and their included products.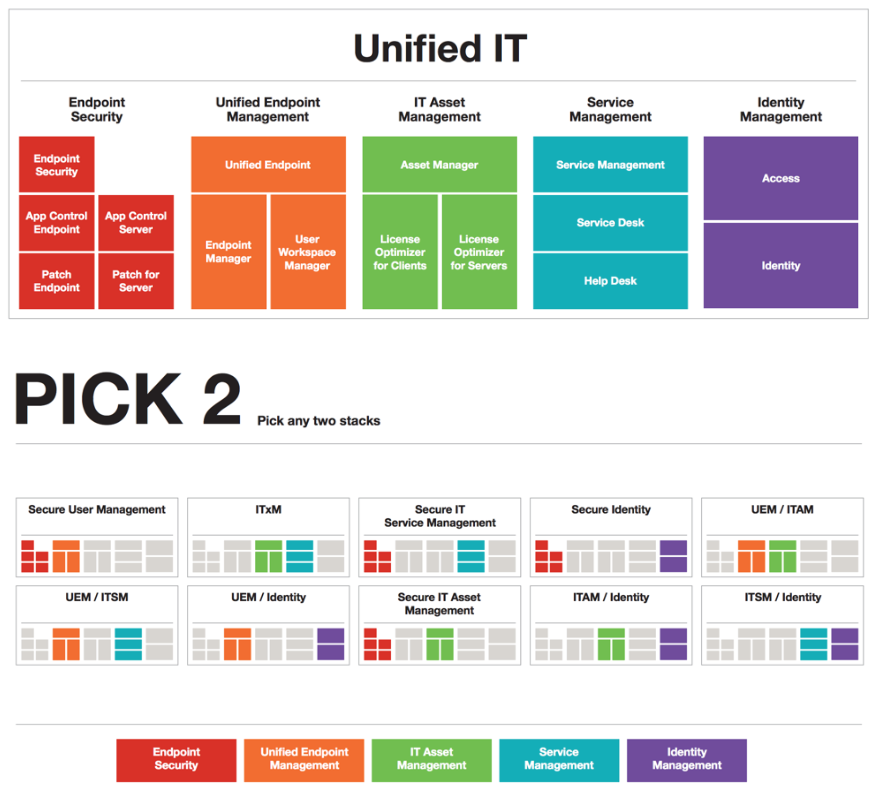 The goal of the ELA is to help simplify Ivanti's portfolio and make our products more accessible to our customers. Because of the way these pillars are set up, there are natural paths as you strive to mature your IT organization. We've already seen how this model helps our customers work together to solve problems that traverse across the IT department, and we hope to help your organization as well.
Over the years, we've strived to make products that work together. The experience of using our products is unified, and with the Ivanti ELA, now buying can be unified too.
Top 10 Questions About Ivanti's ELA
1. What's the vision of unified IT?
The way that we've grown up in IT has naturally and rationally created silos in the organization. For example, one department might have a mobile team, a security team, a desktop management team, and so on. These teams are often segmented by the tools they are currently using. This has been necessary in the past, but here at Ivanti, we believe there is a better, more efficient way.
We want to facilitate better communication and more strategic IT by solving the problems you have and breaking down these silos. We want to bring IT together, so every IT professional in the org knows what is in their environment.
We understand that changes like this don't happen overnight. When it comes down to it, Unified IT is a vision, a destination. There are a lot of paths to get there. That's where are ELA model comes in, as a simple first step in your IT journey.
2. Is the ELA about pricing or functionality?
Honestly, a bit of both. The value proposition of the ELA is about functionality. As our portfolio broadened and we maximized the products that work together, our customers were getting confused about the amount of skus available. We created the ELA to simplify this issue so customers can more easily discover, provide insight, and take action in their environments. As part of this, there is a price advantage. It's really a win-win.
3. Why is it just available on subscription?
If Ivanti has been on your radar for a while, you know how much we love acquisitions. We're always adding new products into the mix, through acquisition or our own product development. We're also always adding additional functionality to products we already have.
Due to this, we've chosen the subscription model because it makes it easier to keep adding value to the customer. For example, since we launched the ELA, we added a brand new, cloud-delivered Asset Manager product, which slide right into the ELA at no extra cost for the subscribers. Our intention is to include future products into the ELA as much as possible. It's the gift that keeps on giving.
4. What about existing TUM and SUM customers?
In the past, we've sold a number of different bundles that represented key technologies, such as TUM (Total User Management) and SUM (Secure User Management). Congratulations to these customers, you've already started on your journey to unify IT!
For customers in this situation, we have special programs that will help you assimilate into the ELA. Talk to your sales representative and they can help you get started.
5. Is there a minimum size?
When we first announced the ELA, the original minimum size was 1000 users. Since then, we've decreased this number to a 500-user minimum. You're welcome.
6. What are the most popular "Pick Two" options?
We've sold just about every combination of pillars in our "Pick Two" option, so there are benefits for all depending on the problems you are trying to solve.
7. Where do RES products sit in all of this?
RES, the newest addition to the Ivanti family a little over a year ago, can be found in two different pillar stacks. RES Workspace sits in the UEM pillar and RES Automation falls is the Identity pillar. If you have more questions about the roadmap for RES products, be sure to watch our webinar with RES founder Bob Janssen.
8. Is there consideration of adding Global Academy licenses into the ELA?
For those who don't know, Global Academy is an all-inclusive, unlimited, annual subscription that provides training on Ivanti products. This cloud-based, blended learning environment helps Ivanti customers train on what they want, when they want, and how they want. To learn 10 reasons why Global Academy will enhance your Ivanti experience, check out this webinar on demand.
There are no announcements at this time, but this is something we'd love to do and are currently looking at it as an option.
9. Is the end goal to be all cloud-based or combination on-premise and cloud?
The general trend of software in general is definitely skewing more cloud-based, and we are following those trends. We want to move a number of our products to the cloud because, frankly, there's a lot of cool stuff we can do in the cloud, like machine learning.
However, we aren't completely departing from on-premise. We're prepared to work with you on the needs of your market and company.
10. How much does it cost?
Good question. Head on over to our request a quote page and our team will get started on building you a customized quote for your user environment.
Hopefully this helps give you some insight into our vision for Unified IT and has answered your questions about Ivanti's ELA model. You can find out more on our ELA webpage or by reaching out to your sales representative.