About Nayaki Nayyar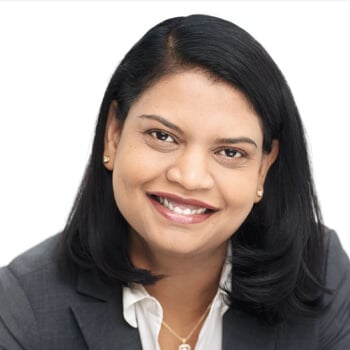 Nayaki Nayyar is the former President and Chief Product Officer at Ivanti. She has been responsible for driving Ivanti's next generation innovation in Cybersecurity, Robotic Automation, Endpoint and Edge Device Management, and Enterprise Service Management.
Prior to joining Ivanti, Nayaki was President of the Digital Service and Operations Management Business Unit at BMC Software, Inc., where she led BMC's evolution into the cognitive era with launch and growth of the BMC Helix suite. Nayaki also served as General Manager of SAP's Internet of Things division and held senior leadership positions in corporate strategy and SAP's cloud unit. She was senior vice president of SAP's cloud for customer engagement business unit, where she drove significant growth in the company's cloud, CRM, and mobile business units. Nayaki gained tremendous industry experience during her early years at Shell and Valero.
Nayaki currently serves on the board of Veritone, a leading provider of artificial intelligence technology solutions and on the board of Corteva, Inc.. a publicly traded agriscience company. She holds a B.E. in mechanical engineering from Osmania University (India) and an M.S. in computer science from the University of Houston, and she is a graduate of the Stanford Executive Program.
Posts by Nayaki Nayyar